The Darkness Within.

Since then, the show has negated the backstory I had built for Bashir. I usually incorporate the history of my previous stories into the new ones, and that includes If It's Not...., though I (and my readers) politely ignore what no longer fits (Julian's backstory) and keep the rest (the mysteries, the Gidari, the other events).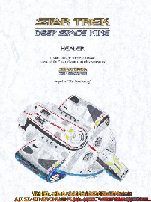 My second Trek story was something I wrote for the PocketBooks Strange New Worlds contest last year. It's a sequel to "The Quickening" from DS9's fourth season. I didn't win, which is why I can put the story up here. It's called Healer, and it just won second place for Best Deep Space Nine Story in the 1998 Alt.StarTrek.Creative.All-Ages Tribble Awards. In addition, I was honored to be tied with Terrie Drummonds for Best Deep Space Nine Author in the same awards.
I also wrote another short story as a sequel to someone else's. Valerie Shearer wrote a what-if about a different ending to "Doctor Bashir, I Presume" where it was found out that Bashir was illegally genetically enhanced as a child. Her story, The Exile, sparked a scene--unusual for me since it's non-canon--in my brain. So I wrote a sequel to hers, The Doctor.
My next big novel-sized story took over a year to write and was actually finished in September 1997. But I was hoping to submit it to PocketBooks. I found out though that it's too long to even be considered. So...I posted it to alt.startrek.creative, and I've also posted it here to my site.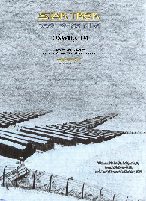 Shall I whet your appetite? A Klingon ship with Cardassian registry runs at the station and then veers off toward Earth. The Defiant must follow, unknowingly carrying a changeling infiltrator. Just as the ship nears Earth, it changes course and heads right for the sun: a trip that takes it four centuries into the past. The Defiant, again, must follow, to insure the timeline is secure. Don't let that fool you. It's not what the story is about.
Two hints: the title--Oświęcim, and the year they go back to--1943. (And it was annouced as the winner for alt.startrek.creative's Best DS9 Story for 1998 and an Honorable Mention from Fan Q 1999.)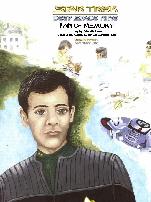 Pain of Memory is a story inspired by my grandparents. I had the thought: What would be harder? To lose one's mind all at once and not realize what's gone, or to gradually lose it, therefore retaining some but knowing what you've lose? This story is an attempt to explore the latter theme.
I wrote First Consideration in 1998, for a fanzine entitled "Beyond the Wire, Vol. 1". It was published by the Doctor's Exchange (the official Siddig El Fadil/Alexander Siddig fan club) and the Official Andy Robinson Fan Club and edited by Gayle Stever and Terry Rillera. I had to wait a year to post it, but that year is up, and now so is the story. It won second place in the Best DS9 General Story (formerly Best DS9 Story) category on Alt.StarTrek.Creative's 1999 Awards and it was recently voted Story of the Month for June 2001 by The Darkness Within.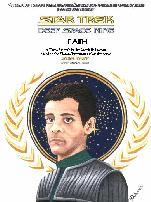 Faith is a story I started a long, long time ago. It turned into three separate but very tightly related stories. The first part is titled Hope, while the second is called Forgiveness. And the third part, Peace, has now been posted! The trilogy is complete.
I'm honored to have been voted 2nd Place Best MIS Author in the 2000 Alt.StarTrek.Creative Awards. MIS is a category for stories that combine Star Trek series, cross-over Star Trek with other series, or just start new series of their own, among other things. Faith, Part I: Hope took the 1st Place prize for Best MIS Combined story, as it combined TNG and DS9. I'm honored to have won that award as well. Thanks to all my supporters.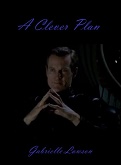 I wrote A Clever Plan in 2001, for a fanzine entitled "Salutatorian 3". It was produced by the official Siddig El Fadil/Alexander Siddig fan club and edited by Joan Marie Verba. I had to wait a little while to post it, but that time is up, and now so is the story. It's set after What You Leave Behind, the series finale and my previous stories have no bearing on this one.
I finally got back to a DS9 story! Why? Well, I was rewatching DS9 by my DVD's to update my Bashir history. Valerie Shearer found me again through fanfidtion.net and we decided to revive Purgatory, and experimental story in which we write like actors, not knowing all of what will happen or what the other's characters will say. 2 POV's per scene in most cases. It's set during the month Bashir is in Dominion Internment Camp 371. (This is back on hold. Sorry.) And while rewaching By Inferno's Light, I was was again struck by Bashir's lack of a proper welcome home. So this story came to mind, and it's aptly titled, Welcome Home

I've still got at least one more Bashir story in me, and I started it in 1997! Yes, I was sitting in the airport waiting to come home from a Weekend on the Promenade where I handed Sid a fresh copy of the original finished draft of Oswiecim. I was waiting for my plane when it hit me: What if I killed Bahsir and Kira? In the first part of a story they star in? It's called The Honored and I've finally finished it! It only took 23 years.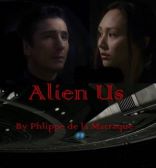 I'm writing under a penname. Sure, I do that as Ainaechoiriel for LOTR stories, but this was a secret penname. Why? Because it stretches the boundaries, maybe even crosses them, of what Gabrielle Lawson writes. So I created someone else to do the writing. The story is on ff.net, under that penname's profile. But you can now read it here, as I've fessed up to being Philippe de la Matraque. Here is "his" Enterprise story, Alien Us. After Enterprise receives a mysterious message, Malcolm and Hoshi are sent to investigate. But the shuttlepod collides with something and crashes on the surface of the planet....one year in the past. Malcolm and Hoshi must endure a year of being studies and experimented on until Enterprise has any hope of rescuing them.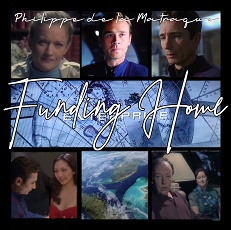 Philippe has officially started his sequel to Alien Us. It's called Finding Home. It picks up right where Alien Us left off. Enterprise has a new secret mission and they need Hoshi. Starfleet R&D wants to talk with him about the stable EM barrier he perfected, but Malcolm is in no shape for that and he needs a new heart. Trip and Malcolm are sent back to Earth. Trip will have to leave to rendezvous with Enterprise but Malcolm suffers a setback.

And now, you can hear all of my stories (except the WIPs). I've created a podcast. It's nothing fancy, just me talking about writing and reading my stories. I may even have guest writers to talk with. So far, I've had 3. You can find it here on Anchor, but also on Spotify and Google Podcasts. It's called There Are Three of Me, because I'm Gabrielle Lawson, Ainaechoiriel and Philippe de la Matraque. You can find it on Anchor at the link above, but also on Spotify and Google Podcasts.

And there are still plenty of places to find good stories. Here are some of my favorites:
Visit theAlt.StarTrek.Creative web site for more stories of every kind.

Or try Alt.StarTrek.Creative.All-Ages for stories safe for the whole family. (This site has moved. I'll update the link when I find it again.

Darrel Beach's Starbase 7M24 Writer's Corner

Fanfiction.Net is a wonderful site for all kinds of fan fiction, not just Trek, with the ability to search by author, category, etc. And reviews of stories!

The Best of Trek Fanfic Site collects only selected stories, which the maintainers consider the best of Trek.

This and That A site with a lot of stuff, including DS9 stories.

I haven't read any stories here , but their banner was just too much fun to pass up. These stories are based on Section 31.

Back to my main page.