Help me and my husband adopt a child! Please click this link to our Adoption site
Poodie's Corner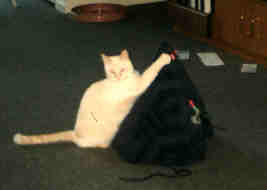 Welcome to Poodie's Corner. This is Poodie, my recently departed, nearly-15-year-old Tabby/Siamese. He wanted me to have a page devoted to him and my other pets. I've had cats all my life. Presently, I have three. I had 5 when I got married, but Rigby had to be adopted out as he tried to kill Thumbellina, who is left with PTSD from the experience. Elora is one of a litter that were born in my basement. She turned into a big Maine Coon.

I've had plenty of fish in the past but don't have any now. I had newts at one time. But my last one died because I didn't know enough about his care. Please, if you have a newt and don't feel you know a lot, go and read my newts page and take some of the links there to more information.
Site Contents (subject to growth):

Cats!Come take a look at some of my most recent kitties!

Newts! "Why newts?" you may ask.

Catfish Not just for dinner anymore! (I know, bad joke.)




Web Hosting

·

Blog

·

Guestbooks

·

Message Forums

·

Mailing Lists Easiest Website Builder ever!

·

Build your own toolbar

·

Free Talking Character

·

Audio, Fonts, Clipart powered by

bravenet.com